Faculty
We have well qualified experienced and devoted staff. Their professional commitment, supervision, involvement & guidance have been pivotal in the success of the school over two decades. Orientation & regular training programmes are organised for the staff from time to time to update their knowledge and teaching skills. The Administrative staff provides a strong support for the smooth functioning of the school.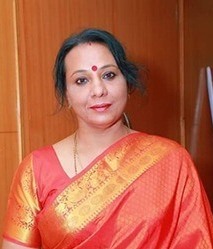 Ms. Rekha Rao
MPhil, MA, B.Ed
Principal
I am delighted to have been entrusted with the responsibility of heading the premier school of Hyderabad, DDMS P. Obul Reddy Public School in the capacity of Principal from May 6, 2022.
---
With over 25 years into education, experience ranging from KG to PG, having taught in Defence schools to international schools, heading various schools across the length and breadth of the country, I bring in rich experience of inter cross culture which operates and influences in the background of every child, silently casting a shadow in their decision making, learning pattern and behaviour. Being a trained Rock Climber, Mountaineer and an NCC 'C' certificate holder, I believe in bringing fitness & sports wherever I go, which automatically develops leadership quality, discipline and social skills along with team Spirit. As we gear up to welcome our students post pandemic, the challenge is huge and immense. Parents' active involvement is required more than ever. Patience, listening to the children, understanding and respecting each one of them, are the immediate ingredients to make them come on track and comfortable once again. We will also be working more at micro level so that each and every child gets an opportunity to unfold their potential without any inhibition. With a firm belief that students are our most prized possession, we strive in nurturing them and equipping them with required skills to face the world with confidence and be a winner forever. I look forward for your support and involvement with the day to day happening of the school. Parent is the teacher at home, Teacher is the parent at school, The child is the centre of our world.
As Educators and School Leaders our core responsibility is to provide an environment that engages our students in learning. Such environment does not result simply from putting in place particular physical features, rather it is the result of a culture for learning and as such a culture is the result of everything we do, think and believe.
In
AMS. P. Obul Reddy Public School,
children learn the importance of integration of cultures and values through daily activities which are so designed as to foster respect for diverse ethnicities and religious faiths through the INTERNATIONAL SCHOOL AWARDS program (ISA) which has been embedded in the curriculum.
If Education of the 21st Century is to contribute to improved learning, better outcomes and Internationalism for making our children Global Citizens, then our pedagogy must be designed for the fundamental process that should be used to target resources, benchmark learning against world's best teaching practices and monitor these trends over time.
Etched on the stone of Martin Luther King Jr. Memorial in Washington, USA , are words which dramatically sum up the challenges of the 21st Century.
"If we have to have peace on earth, our loyalties must become ecumenical rather than sectional. Our loyalties must transcend our race, our class and our nation. And this means we must develop a world perspective".
When the posture of our School is towards inculcating Internationalism in our Teachers and pupils we will surely begin to develop global citizens in the future.